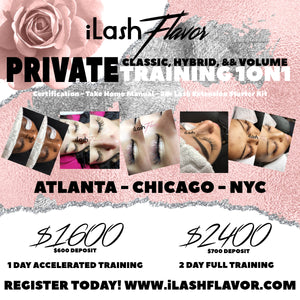 iLash Flavor Semi-Permanent Eyelash Extension Private Training Course
iLash Flavor presents the Semi-Permanent Eyelash Extension Private Training Course. In this course you will learn how to properly apply eyelash extensions to natural eyelashes safely and securely, and all the information you need to know to become a successful Eyelash Extension Stylist. No experience needed. Locations Other Than Atlanta will cost an additional $350.
Class Length:
Live Model Training Approximately 7 Hours (Accelerated training) - $1600
- 2 hours of education
- 2 hour of Mannequin Training
- 3 hours of hands on and look and learn live model training
2 Day Training with live model - $2400
Day 1 Approximately 5 hours
- 2 Hours of Classic Eyelash Foundation Education and Video training
- 2 Hours of Hands on Mannequin Training
- 1 Hour Volume Training and Introduction
*Homework assignments given*
Day 2 Approximately 4 hours
- 1 Hour mannequin practice and Q&A
- 3 Hours of hands on live model and look and learn training
What's included in the class:
- Certification of completion
- Fully loaded 20+ Person Kit + Mannequin
- Lash Bed, Lamp and Chair
- Comprehensive take home manual
- Online Training Access (2 weeks)
- Product Purchase List
- Continuous mentoring and support
What will be covered in the class:
- History of eyelash extensions
- Potential Earnings
- Client consultation
- Eyelash Growth Cycle
- Medical Concerns / Contradictions
- Proper Sanitation
- Classic, Hybrid, and Flavor Volume
- Eyelash extension information (Length /Diameter)
- Eyelash Application and Lash Mapping
- Propper isolation
- Bottom Eyelashes
- Eyelash Removal
- Marketing/Promotion
- Business Aspects
- Q and A
- Certification Quiz And More!
After Deposit / Payment
Wait 24-48 hours to be contacted
or Email Training@ilashflavor.com with your anticipated date and time
Deposit is NON REFUNDABLE AND NON TRANSFERABLE remaining balance is due in CASH upon arrival to the class
COVID-19 UPDATE: If your training is affected by Covid-19 restrictions you will have the option to come to a different training date, train via Zoom, Via our online academy, or come to me to train. Updates are being sent out frequently. We are taking precautions by having small classes, ensuring that sites are cleaned before the training, and enforcing a mask policy.  
Disclaimer: Flavor Beauty Bar LLC is an International Company training both licensed and non-licensed individuals, for anywhere from home use to professional use. Because of the large variance in the students we educate, and the fact that laws and governing boards vary from country to country, state to state, county to county, and city to city, it is the sole responsibility of the student to research their governing boards and laws within their state, city, county and country if you are planning to perform any of the procedures we offer as a business. By signing up and registering for you agree that you fully understand this disclaimer.